I have been looking forward to our lesson about boredom and science because it would allow me to share this video, which definitely remains one of my favourite boredom related finds while researching this project. It is a video used to induce boredom in test subjects participating in a study on the relationship between boredom and attention/reaction time. I find this video, and its choice of cultural content, anything but boring, and I'm not alone. Most participants in this particular experiment reported being more bored by the reaction-time test that followed the video than by the video itself. So this experiment may teach us less about boredom and more about the cultural perceptions of boredom that can inform scientists choices. Which leads us to…
Things science has taught us about boredom #1
Most people, and particularly men, would give themselves small electric shocks if left in a room alone with their thoughts for 15 minutes.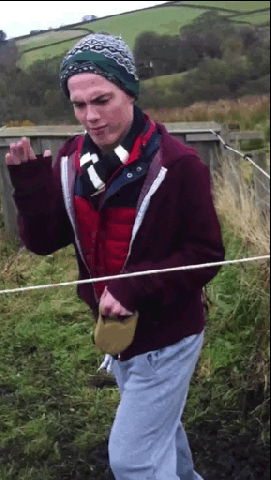 That's right. In one oft-mentioned experiment, people left alone in a room for 15 minutes with nothing but a device with which they could self-administer a safe but painful electric shock, mostly chose the shock over the boredom of their own company. All to show how little some people like boredom.
Things science has taught us about boredom #2
That being an astronaut is not as exciting as you might think.
A scientist/test subject at HI-SEAS Habitat, Mauna Loa, Hawaii. Groups of 5 or 6 subjects have spent up to an entire year living in this dome in the volcanic mountains of Hawaii. The location is chosen because of its visual resemblance to the surface of Mars. There is no visible vegetation or wildlife in the area. Scientists are using the site to simulate life on Mars, and test to possible risks this way of living could pose for a future mission sending astronauts to the red planet. Subjects can only leave the dome in a space suit, and so breath no fresh air for the year. Nor do they eat any fresh food. Their findings so far: all participants report boredom as one of, if not the biggest challenge they faced while living in the dome, and it was found to be the most likely cause of human error that could have disastrous consequences on a space mission.
Pilots and spies are two other occupations that have attracted therecent attention of scientists, as they too are both involve activities in which boredom is common, and can carry extreme risks. All those jobs that seem like they'd be really exciting when you're a kid? … Not so much.
Things science has taught us about boredom #3
That boredom is good for us and that boredom is bad for us.
Students were given this article to read in class during the week: 6 scientific benefits of being bored.
And together we read the following passage from another recent scientific article about boredom.
There is no universally accepted definition of boredom. But whatever it is, researchers argue, it is not simply another name for depression or apathy. It seems to be a specific mental state that people find unpleasant—a lack of stimulation that leaves them craving relief, with a host of behavioural, medical and social consequences.
In studies of binge-eating, for example, boredom is one of the most frequent triggers, along with feelings of depression and anxiety. In a study of distractibility using a driving simulator, people prone to boredom typically drove at higher speeds than other participants, took longer to respond to unexpected hazards and drifted more frequently over the centre line. And in a 2003 survey, US teenagers who said that they were often bored were 50% more likely than their less-frequently bored peers to later take up smoking, drinking and illegal drugs.
"Why Boredom is Anything but Boring" Maggie Koerth-Baker, Nature, January 18, 2016.
All these strange science experiments and findings were just a primer before attempting our own boredom related science experiment, the Lazy Readymade Boredom Induction Experiment.
We attempted to duplicate, imperfectly, an experiment conducted by psychologist Sandi Mann in 2012 to test the question "Does being bored make us more creative?".
Procedure
Divide into 2 groups, with members of each class in both groups.
Test subjects in group 1 will read a page of the phonebook for 5 minutes.
Test subjects in group 2 will copy a page of the phonebook for 5 minutes.
After 5 minutes has passed you will be given your next instructions.
(Next instructions) For the next 5 minutes, come up with as many ways as you can to make readymade sculptures out of two milk-cups. You may include other objects or materials in your sculpture ideas. Make a list of all your ideas. You can use words and/or pictures to communicate each idea.
Students and teachers were then set the homework of collating the data for their class, and determining which group came up with the most ideas on their lists.
One of the things tested for in the original experiment was whether reading or copying a boring text produced more creative thinking in participants. The study found that reading produced more creative outcomes, which the researchers put down to reading being an activity more conducive to daydreaming.
The original experiment saw participants make a list of possible uses for two polystyrene cups, a well established test for divergent thinking. I chose to use milk cups because, thanks to the school's hot lunch program, there are always plenty of them available. I as this is actually an art project, I thought it would be more relevant to list ideas for readymade sculptures rather than potential uses.
Unless next Friday is cancelled due to snow, students will be developing and making a milk-cup sculpture idea of their choice from their list.